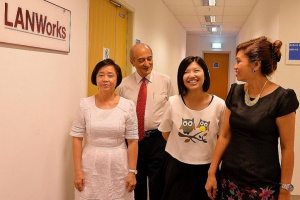 An IT company owned by Singaporean Muslim/ Malay had gone global in order to deliver their expertise and services overseas.
Continue changes in IT requires a businessman to revamp business to fulfill his customer's needs.
That's what Mr Abu, founder of LANWorks has been doing for the past 25 years.
From early 1990s, PC is still new. Demand is very big for PCs and servers hardware. 80 percent of sales consists of hardware sales and brought in high profits. Says Mr Abu.
He started this business in a small office in Paradise Centre, Selegie Road. Now the office operates in Alexandra Road.
Things started to change in the mid 1990's when many computer companies such as HP sold their hardware directly to end users. This impacted his company badly.
After that, changes from computer to tablets and smart phones also lessens the demands for computers.
When technology changes, business like us must also change to stay relevant.
I found out that many IT companies who didn't change went out of business. Says Mr Abu.
To stay relevant, they changed their direction and finally decided to focus on software sales and computer applications.
As a certified accountant, accounting software became the company's main focus in the beginning. This is to make internal processes more efficient and improve output internally.
Later, the software expanded to other domain usage within the company. Such as CRM.
Now, 90 percent of the company sales comes from software and applications sales to other companies.
LANWorks also implemented software for long term care and charity homes. For instance, old folks home in Singapore.
Using tablet, workforce, medical experts, and family members of care taker. These long term care homes got to know their resident's particulars and can communicate live with one another for medical and supporting their residents.
Seeing such big acceptance for the software which was invented by LANWorks, the company marketed the application to London and is now being used by long term care homes there.
Other than London, the company also expanded to Manila, Philippines which is their regional support hub for their customers. Proven strategy taken had beared fruits when the IT company had 44 head counts within the country and overseas. Not only to sustain, but to expand even further. Convinced with the company's direction, Mr Abu said he had retired daily operation of the company to his right hand all ladies team. So he can focus on developing more strategies for the company. Business operations in Singapore is now handled by Miss Roslinah, which is the MD of the company in Singapore and Miss Charmaine Chong Group MD for the company.